Basics
name: Sarah
age: thirteen
where do you live? lompoke california, yes sir

Music
tell us your favorite bands (no more than 20) At the moment? Ugh that's impossible, I'll have to go with- Pink Floyd, Gwar, Beastie Boys, The Buzzcocks, Sublime, Metallica, Nirvana, Mindless Self Indulgence, Leftover Crack, Jimi Hendrix, Frank Zappa, The Dead Milkmen and so on and so forth.
But I'll have to add that those are the bands I've been repeating all day and night, so if you don't like it, well then that sucks.
what's your favorite song at the moment? Hmm. I'll go with..Breathe by Pink Floyd, just cause that's the song I have playing.
what's your favorite album at the moment> Dark side of the Moon, or The Wall
do you own a cd player? Yep
do you own a tape player? Yep
do you own a record player? Used to, but i threw it at a wall because it was pissing me off.
do you play any instruments yourself? I'm sure i could still play a bit of guitar, it's been a year or two though..

You
so how are you today? A little out of it, been up all night, but nonetheless, I'm pretty good, thank's for asking, how're you?
what's your favorite fruit? Uhh..oranges. Yum
if your parents were to call your house while they were away, how would that go? Good question. I have no clue, sorry.
where's the love at? Not here buddy, check isle 5.
tell us a little bit more about yourself. (no more than 3 sentences, buddy.) Well, I can't exactally answer that without sounding completely cliche on a count of my age, but here goes:
I spend most of my time helping others, or walking around town all day with no destination. If I was reading a book, sketching something, or just thinking, I'd sit out back all night until the sun came up. I'm an insomniac.
Like i said, i'm not good at discribing myself, so if you need more just ask.
what movies do you like? Uhm, A clockwork orange, fear and loathing in las vegas, super troopers, half baked, SLC punk, donnie darko, the nightmare before christmas. Uhm...movies. yea.
TV shows? ren and stimpy & family guy
what about your favorite thing about the opposite sex? Uhm. well, the fact that they aren't the same sex as me, because then i know they'll never be on the rag. haha, naw i'd half to say the fact that they have sideburns. Pure jealousy.
if you were stranded on a desert island, what 5 things would you have to have with you? A boat to get me away from there, a warm jacket, endless amounts of batteries, my MP3 player and well, food, duh.
make us laugh, we like to laugh: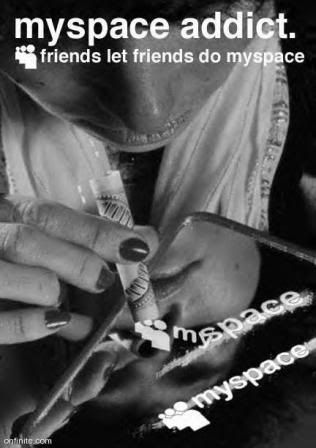 That's the story of 50% of the internets life. &&
I was just reading an article on CNN.com and I stumbled upon this passage.

Ed Vitagliano, spokesman for the American Family Association, a conservative Christian group, said he recognizes "Desperate Housewives" to be well-crafted but criticized it for what he called its pervasive and misguided sexuality.

"The problem we have with programs that exploit sexuality of any variety -- bisexual, heterosexual, homosexual, is simply that they are substituting sex for legitimate relationships," he told the AP. "We would have a problem with homosexuality as well as adultery. These are all signs of human brokenness."

Okay, I want to know who sets the standards for human brokenness. Last time I checked there were none(?). Is there a new radar that can detect how broken an individual is? Adultery isn't something that I condone but in today's soiceity it seems to happen more often than not. I am sure people say the same thing about homosexuality too. In my opinion both are more socially acceptable now because as a society we are more laxed, does that mean that we are wrong, not necessarily. Was Prohibition wrong in the 1920's? Was slavery the way to go? Of course they were; that is why the US is a dry country and why we all have slaves running around after us picking up our messes. No. Standards change as well as norms. I can't wait for all of these up tight_closed minded_right wing_conservatives to die off, I hope they take their equally annoying younger generations with them.

(that was taken off of a friends journal. I found it amusing)
Pictures
first, promote our community in three places
THREE places? jeez let me see..
well, i promoted to my friend rose, but it was on a friends only journal, i'll bug her about it when she signs on later also, so don't trip.

http://livejournal.com/users/microspecs/info
http://www.livejournal.com/users/microspecs/27853.html
as a tribute, take a picture of yourself with headphones on
Okie dokie


and i even took a few of my record. yes, bitches be jealous of it.


incase you're too stupid to notice who that is, it's led zepplin's 'stairway to heaven'
post three or more other pictures of yourself


any last words?
Yea.
HEY BRIAN, DON'T YOU WISH YOUR RECORD WAS COOL LIKE MINE
:p